SKYDEX develops customized shock-mitigating seat cushion inserts ranging from 'jockey-style'
seating on RIBs and open boats to 'truck-style' seating on cabin and wheelhouse arrangements as a
high-performance foam alternative.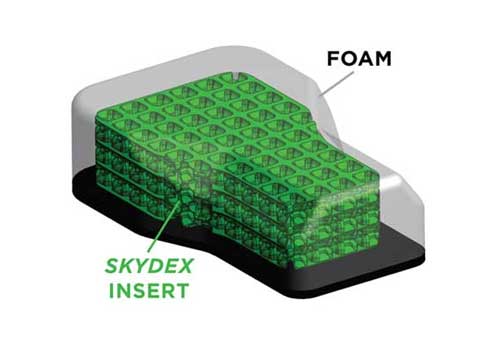 SKYDEX shock mitigation technology reduces whole body vibration from repeated shock events, helping address the requirements of the EC Vibration Directive 2002/44/EC.
With simple seat insert solutions for protection on the water, SKYDEX has a focus to ensure marine craft occupants are protected from injury during high-speed marine craft operations and ready to perform their tasks.
At a GLANCE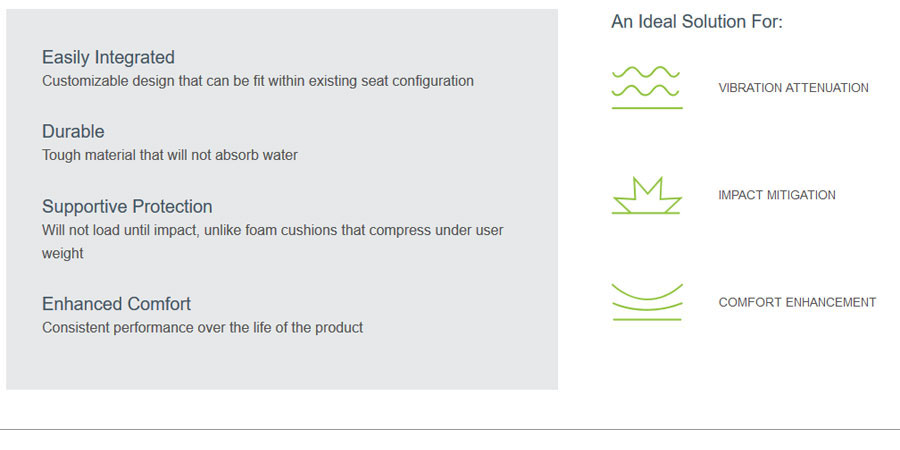 RESULTS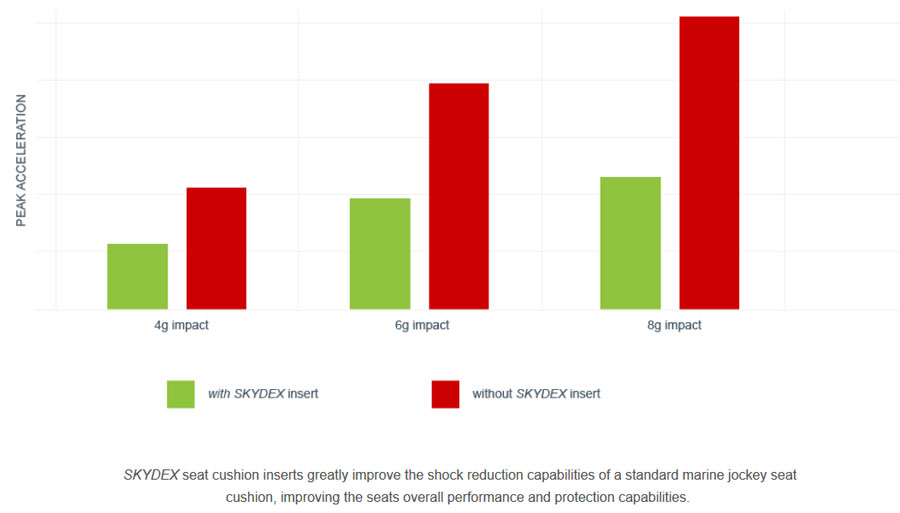 For information about SKYDEX marine products contact
skydex@shockmitigation.com
+44 (0)7709 675258
UK 09:00 to 14:00

PRESS RELEASE - May 2019:
Shock Mitigation Solutions announces strategic alliance with SKYDEX Technologies
Shock Mitigation Solutions Managing Director, John Haynes said,
'We believe that SKYDEX cushion decking, shock mitigating seat cushion inserts and PPE products can
significantly improve comfort and safety for crew and passengers on all types of fast craft and workboats.
We look forward to using our experience to integrate SKYDEX into marine and special projects.'

SKYDEX Impact Mitigating Seat Cushion Inserts are available in a range of tuned performance layers and thicknesses. Metrics demonstrate how cushions with SKYDEX Seat Inserts can reduce the effects of Whole Body Vibration (WBV) within the existing seat footprint and with no weight gain. Suitable for new build or retro-fit in all types of marine seating, from jockey and bench seats on RIBs to wheelhouse seating, SKYDEX cushions improve comfort for all sizes of seat occupants in a wide range of sea conditions.
Read More >