Selecting vessel and equipment to break 24,000 mile Circumnavigation Record of 61 days
Team Britannia is a multi-million pound British bid led by ocean adventurer Alan Priddy to design and build the fastest and most fuel-efficient wave-slicing powerboat to circumnavigate the globe for the much coveted UIM world record, currently held by New Zealander Pete Bethune at 60 days 23 hours 49 minutes.
Construction of the boat started at the beginning of June 2016, and the important hurdle of turning the hull over was passed in December 2016. Completion of the boat, which includes attaching the wheelhouse, flybridge and decks, along with fuel tanks, engines, jet drives and interior fittings, continues into 2017. After the boat is launched, there will be a comprehensive programme of sea trials and record attempts prior to the circumnavigation itself.
The UIM (Union Internationale Motonautique) world record authorities dictate that for a recognised circumnavigation, the craft has to pass through the Suez and Panama Canals, cross the Tropic of Cancer and the Equator, and that the journey must start and finish in the same place, though that can be anywhere in the world. Team Britannia have carefully identified the route they will take to beat the current world circumnavigation record. The proposed route is:
START - Gibraltar
Bahia de Fajardo, Puerto Rico
Through the Panama Canal
Manzanillo, Mexico
Honolulu, Hawaii
Apra, Guam
Jurong, Singapore
Salalah, Oman
Through the Suez Canal
Valetta, Malta (possibly)
FINISH - Gibraltar

Alan Priddy - Global Powerboat Circumnavigation Record Team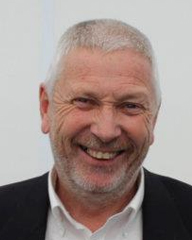 Alan Priddy is a world leader in offshore expeditions and is the current holder of 37 World Records. He has powerboated and sailed around the world in both directions and he now knows what type of craft is required to break the World Powerboat Circumnavigation Record of 61 days.

He attempted to circumnavigate the world in a RIB in 2002, and in 2008 successfully completed a circumnavigation by yacht. He has also navigated a RIB around Scotland, Ireland, Britain and across the Bay of Biscay. He set a world RIB record in 2003 for crossing the Atlantic in 103 hours.
Alan is working with a carefully chosen team of highly driven like minded professionals to complete the fastest ever circumnavigation of the globe in a powerboat.
NEXT GEN Workshops - October 2017