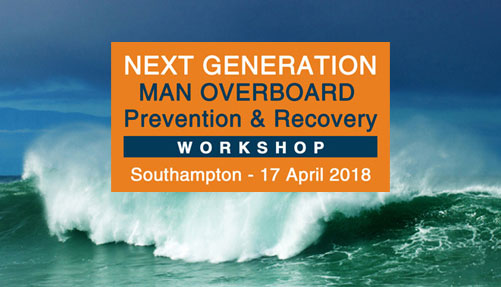 FEEDBACK

Paul Savage OBE BSc SRP - Saviour Medical
Rarely do you get to present to the key players across the whole spectrum of the maritime industry from manufacturers and the leisure industry to government and SAR agencies. This enables a unique platform to spread latest best practice and dispel the historical paradigms of the past to facilitate a safer future for all people who head to sea. John never fails to get the right audience in the room and these events are missed at your peril!
Dominic Valvona - Border Force
A well organised and enjoyable event. An excellent networking opportunity.

Jose Sabido - Lisbon Pilots APIBARRA - Portugal
Great workshop full of real information from a group of top presenters. John's dynamic lead got the audience through the subjects in a breeze. The networking between the experts and the industry is extremely important and ensures safety is always at the highest level. Looking forward to next year's event.

Sally Dale - Pinpoint Electronics
I effectively learned in a compressed day what one would pick up in the industry over several months, potentially years. John was able to take the complex issues of MOB and make it simple, with the use of first class keynote speakers and participants. I now have a much better understanding of MOB, how it is perceived by industry and how to address the issues looking at the current systems on the market and new technology.
Paul Bailey - King's Lynn Conservancy Board
Good range of topics covered, and very useful to get current knowledge and views.
Bill Swanton - Institute of Naval Medicine, Royal Navy
An excellent workshop with great deal of through put into the agenda. All of the presentations were well considered and pitched at the correct level. The opportunity to network was a key element of the workshop and the ability to challenge the 'norm'. The speakers with first hand experience proved invaluable especially Paul Savage, Frankie Horne and Andy Proudfoot. The workshop was efficiently co-ordinated and the flow of information works well as each topic lead into the next one.
Graham Brown - Sea Sure
There's nothing like some real analysis of data to quash the myths of seafarers!
Giuseppe Raffa - Messina Pilots - Italy
This excellent workshop is currently unique in Europe and perhaps further. Certainly, it will be essential to continue to divulge the skills on the issue abroad too. It was a great opportunity for manufacturers to show their products to participating professionals. Another job well done by Shock Mitigation.
Tim Craig-Harvey - CQC Fibrelight
My first Shock Mitigation workshop, and an outstanding day: industry-leading professionals, procurement decision-makers and end-users in the same room for a full day. The standard of presentations was first class, with a great mix of user-experience and industry knowledge. On the basis of this Workshop I would thoroughly recommend Shock Mitigation and fully intend to be back next year.

Nick Rogers - Sussex IFCA
Everything ran very smoothly and to schedule, the talks were all very interesting and relevant. Fascinating guests. Thank you to John Haynes who kept things moving very well I learned a lot watching / listening to him open up discussions and keeping them relevant to the topics.
Tom Harrop - Exposure Lights
For the second year running a very informative event with interesting speakers and delegates, all helping to maintain an effective, forward thinking knowledge of MOB cause and recovery.

Andy Hall - Windcat Workboats
Fantastic event - look forward to next year.
For Information about NEXT GEN 2019 Safety Events Contact