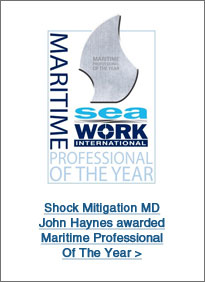 About Shock Mitigation
Our knowledge of specialist marine projects and High Speed Craft is based on over 30 years experience managing, operating and training in the sub IMO sector. We aim to work with organisations and companies that share our high standards and recognise the value of relevant, clear and accurate information.
International Specialists
We operate from the UK which is convenient for the European, Scandinavian, Middle East and African time zones - plus US time zones are part of our working day. We have consultancy partners around the world in all aspects of High Speed Craft, Marine and Special Projects that can be instructed as required.
Marine Background & Articles
John Haynes (MD of Shock Mitigation) is an Associate Fellow of The Nautical Institute, Commercial Yachtmaster Ocean and Advanced Powerboat Instructor. Subject matter expertise includes training, consultancy and product development. He writes specialist articles for US, European and international maritime media.
Professional Event Partnerships
Shock Mitigation partners with organisations to support international events and chair conferences that are relevant to the professional maritime sector. Partners include RINA (Royal Institution of Naval Architects), ASNE (American Society of Naval Engineers). Regions include US, EU, Scandinavia, Middle East, Africa, Asia Pacific.
Independent & Flexible
We consider our most important assets to be our independence and our reputation. Our database includes over 3000 maritime professionals and decision makers in 60 countries. We are deliberately flexible and utilise external support as required which enables the company to be time and cost effective.
To discuss your individual requirements please contact info@shockmitigation.com