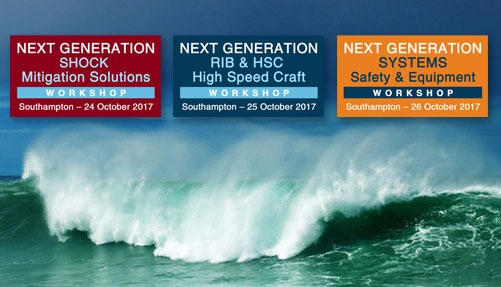 Rakesh Pandit – Maritime and Coastguard Agency
Excellent presenters and their subject matter expertise. Personal and anecdotal accounts lent the event a great deal of realism and relevance. Good mix of presentation, panel and impromptu discussions.
John Dixon – ISVR, University of Southampton
A lively interactive workshop with valuable information coming thick and fast from both the excellent presenters as well as the knowledgeable delegates
Jon Lewis – Border Force
The presentations have given me a lot of food for thought – not only for our RHIB / CPV operations but also the 42 metre fleet. My understanding of the subject of WBV has been increased significantly.

Stephanie Westbury – Southampton Solent University
Maritime Situational Awareness presentation was particularly interesting! Interesting to see concepts challenged. Networking gave a great chance to ask extra questions.
Kurt Hauer – SKYDEX Technologies
This was an excellent event. I gained a great deal of new market knowledge, made some excellent contacts and was well educated on the vender products that were presented. Thank you!
Danielle Blackburn – Southampton Solent University
I really appreciated the opportunity to hear different opinions during panel sessions. The event was extremely engaging – particularly the panel discussions and MAIB presentation.
Pete Roberts – Brodr Hukkelberg
Will attend again! Well done John and staff.
Osman Turan – University of Strathcylde
It was an excellent day. I met very relevant people with different expertise very friendly and open discussions.

Russell Marmon – PWC Endurance Racing / Performance Engineering
Great insight into the subject matter and all relevant topics from speakers, presentations and questions stayed relevant to subject.
John Price – JMP Systems Engineering Ltd
Some outstanding individuals, from a mixture of backgrounds, some serious 'adventures', some from small, medium and large enterprises and many from regulatory roles. Had some great discussions, but felt in general from the sub 24 metre enthusiasts that there is not enough understanding of the system issues which will increasingly be important as complexity increases. For example satellite systems, and ultimately like driverless cars, boat operators will have less and less autonomy. I think there are strong synergies between large aircraft and large ships, and potentially between small craft and personal flying vehicles and UAV's.
Alan Rillie – Scot Seat Group
Interesting to hear the people who are doing the actual testing and setting the standards take on things. Also confirmed the difficulty of finding tests that actually stimulate real life situations.
Paul Nowack – Sea Knees
I had responded to John Haynes about a great article he had written "Riders on the Storm". I was surprised to get a response within a few hours thanking me and suggesting that I should attend the upcoming Shock Mitigation workshop the following week. After reviewing the speakers and the list of topics' to be covered,
I booked the trip. It was well worth it. It was three days and nights of information overload. Great topics by great speakers and very interesting people. I learned more than I expected.

Tony Birr – Century Maritime
The panel discussions really worked!
Pete Roberts – Crown Marine Seats
Excellent! Wish we had attended earlier events!

Hans van der Molen – Head of Technical Services, KNRM, Royal Netherlands Sea Rescue Institution
The workshop "Next Generation Shock Mitigation Solutions" organised by John Haynes at the Grand Harbour Hotel in Southampton was an absolute success. Amongst scientists, researchers, boat users, and suppliers, 4 different seat manufacturers were present. Topics like ISO standard on seat tests were discussed extensively. There is a general consensus that the standard is a good starting point, enabling the market to compare seats al least on one topic. Much more has to come in place though. The topic of WBV within Maritime industry is a relatively young topic, which primarily focussed on vertical accelerations. There is a common awareness that lateral accelerations do form an important aspect, simultaneously there is an awareness that we're just starting to address this issue. Many thanks to John Haynes, presenters and attendants, participating in discussions, all with a common aim, to share knowledge and enhance awareness.
See LinkedIn Comment by Hans van der Molen
For Information about 2019 Safety Events Contact