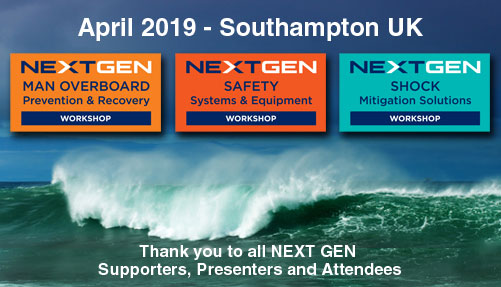 Gurmail Paddan - Institute of Naval Medicine
An excellent event whereby the presenters and the audience from diverse backgrounds were able to discuss a common goal of controlling exposure to vibration of crew involved in operating small boats.

Andrew Pearce - Seakeeper
We must thank you and your team for organizing such a great event, the audience and other speakers were fantastic.
Chris Doran - Landau
All 3 workshops were topical and professional. The delivery and direction of content was fantastic and generated some valuable professional interest and discussion. Thank you again for an inspiring workshop. I have walked away with some great thoughts and new contacts, it really was a pleasure to attend.
Pete Sheppard - RNLI
Excellent as always.
John McCorquodale - MAIB
Innovative knowledge and good discussion. Well worth attending.
Stephen Swann - Capital Seating
Thanks for a great event. HSE standpoint was very interesting.
Peter Wilkes - RNLI
Very useful day as always. Really interesting to see how things are developing, even over a relatively short time period.
Jim Taylor-Ross MBE - GB Ocean Racing, British Canoeing
Location, facilities, material and knowledge were excellent. Information and discussions with Coastguard, MAIB, RNLI were particularly relevant and very useful. The various trade presentations of new innovations has brought us up to date, which we can feedback into the wider performance paddle-sport communities.
Peter Jones - Crown Marine Seats
Rewarding event. Very well priced, worthy contributors and speakers.
Nigel Hunter - MoD
Enjoyed all. Thanks.
Andre Scott - Parker RIBs
Most interesting and would like to participate again in the future.
Andy Byers - RNLI
My background is not maritime so I found the range of topics and quality of presentations extremely useful especially when applying / understanding the numerous issues within the RNLI.
Alan Rillie - Scot Seat Group
Great workshop as always. Very informative and great humour from the speakers.
John Dixon - ISVR
All very relevant. Another good day orchestrated by the ever enthusiastic JH.

Pete Roberts - Brodr Hukkelberg
Excellent! Can't say more than that.

Peter Pisula - Institute of Naval Medicine
As someone who is involved in all aspects of maritime WBV mitigation apart from measuring RMS and VDV numbers, I was pleased to hear and see that movement is being made towards an appreciation of the HF aspects of boat and seat design.

Steve Beech - Safeguard Engineering
Another excellent event, met some very interesting people. Looking forward to the next one.

Renee St Lawrence - SKYDEX Technologies
It was fantastic to have so many industry experts from varying areas of the operational marine world. Excellent conversations and information!
Christine Perrot Cornu - SEAir
Excellent networking event. Very well organised. Friendly atmosphere. Thank you for your warm welcome!
Peter Foot - Pallington Foot
Impressed at level of involvement of delegates in workshop events.
Simon Wood Power - Supermarine Powerboats
Very good – Well done!
James Hunt - Svitzer Marine
Liked variety of presenters. In depth personal experiences. Great to speak to other delegates. Good and honest discussions.