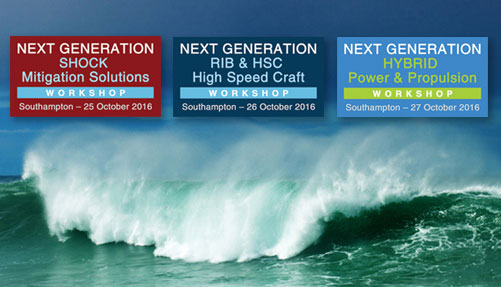 John Haynes – Workshop Lead
We focus on viable innovation and using people's time effectively. We also know that having the right people onboard is essential and there is no substitute for meeting the experts face to face when asking the hard questions. We are really proud to have brought together this great group of innovators, industry and maritime professionals.
Hans van der Molen – Head of Technical Projects & Innovation, KNRM
Excellent combination of presentations and panel discussions. They were interesting as well as of significant additional value. Again it created the opportunity to upgrade my knowledge and produced plenty opportunities for networking.
Gurmail Paddan – Head of Acoustics and Vibration, Institute of Naval Medicine
I attended the workshop on 'Shock Mitigation Solutions' and found it most useful and informative including the latest work on standards and testing of vibration attenuating seats. I particularly liked the discussions where ideas could be shared without any hard selling from sponsors.
Pete Sheppard – Senior Naval Architect, RNLI
As always a good range of presenters & topics with plenty of time for good discussions. It's the discussions that make these events more worthwhile then an academic conference.
Paul Danson – Head of Technical Services, UK Border Force
My first event which I found very informative. Thanks for the invite, great workshop.
Yeping Xiong – Associate Professor, Faculty of Engineering and the Environment, Southampton Marine and Maritime Institute (SMMI)
These integrated workshops are an excellent platform that bring together academic, industries, users, innovation companies home and abroad, which creates effective networking opportunities for future collaborations that benefit not only marine but wider engineering fields. I enjoyed both the 'Shock Mitigation Solutions' and RIB & HSC' Workshops as well as discussions in depth for research applications.
Peter Pisula – Ergonomist, Institute Naval Medicine MoD
A very relevant and useful event. Met up to date knowledge individuals and informed on current status of WBV Mitigation Research / Strategies. Many thanks!

Peter Foot – Consultant, Pallington Foot
An inspirational event, successfully organised and well delivered in a venue appropriately close to the conference subject matter. Interestingly, the speakers went beyond the conference remit and presented their material in an informative way, taking account of issues currently impacting the industry.
John Greenough – Scientific Advisor Acoustics, Army Environmental Monitoring Team MoD
Much interest in WBV in Land vehicles x-country, but very many aspects shared with marine.
Andrew Williams – Health & Safety Advisor, Isle of Man Government
Very interesting and relevant!
Rinus den Bleijker – Team Leader New Ships, Politie Rotterdam
Good group. Much knowledge by all people.

Mel Lewis – Technical Director, Mainstay Marine
This was the second Hybrid Marine Propulsion Workshop that I had attended and was pleased to have been offered the opportunity to present at this event. John Haynes runs a very well organised event and encourages all attendees to ask questions and engage in the workshops in an interactive way, making the attendance very worthwhile. I only wish I had been available to attend the Shock Mitigation and the RIB and High Speed Craft workshops too!

John Logue – Managing Director, Marine & Industrial Transmissions Ltd
Thank you very much for the workshop yesterday, I found it extremely interesting.

Clare Blatchford-Hanna – Digital Marketer, Glass Marketing
Discussion was fluid however John H was very good at keeping relevant to the topic. I really enjoy this style of event and the way it was delivered so worked for me. Found it incredibly interesting and enjoyed the curiosity of the people presenting and attending.
Simon Gerrard – Industrial Liaison Manager, Southampton Marine and Maritime Institute (SMMI)
I attended the morning of Day 1, the afternoon of Day 2 and the afternoon of Day 3. The interactive nature of the workshops is very useful. Well done everyone!
Andrew Phillips – Technical Director, MST - Marine Specialised Technology
A very good event with a nice discussion based format that prompted lots of questions.After conference reception is a nice feature, with plenty of people staying back for a chat. All in all a very good couple of days.
Simon Churchill – Senior Electrical Design Engineer, Mainstay Marine
Very well run event as always. Very topical and informative.
Stephen J Beadsmoore – Managing Director, Wave Access Project
My thanks for the opportunity to attend and speak at your most recent conference, as discussed the feed-back has been 'uplifting'!

Robert Dymock – Southampton Marine and Maritime Institute (SMMI)
Very enjoyable event all round.
Bryan Wood – Military & Government Sales, SHOXS
Best one yet!
TR
Panel discussion is good and works well.

JD
I was bombarded with new and interesting ideas, facts and outlooks. Your infectious enthusiasm for these subjects is clearly rubbing off on all those who were present.