Man Overboard around Ships, Workboats and Port Support Vessels
Maritime Pilots are required to board and safely navigate vessels into and out of most ports around the world. The size of modern ships has increased - besides the sheer scale of very large bulk carriers, cruise ships and car-carrier ships are high-sided. Loaded or in ballast these vessels often present a high side to be negotiated in the climb from pilot boat to the deck. Although the IMO mandates a maximum vertical climb of 9 metres, the overall climb via transfer from the rope ladder onto a portable steel staircase (accommodation ladder) involves a number of significantly dangerous obstacles to be negotiated, often in the dark and adverse weather from / to the pilot boat deck. Additionally, commercial pressures can (unintentionally) influence the decision whether to begin a 'ladder climb' or 'step-across' (on small ships) particularly in prevailing challenging sea conditions.
Mountain climbers, steel erectors and utility repairmen etc benefit from a closely regulated and highly maintained lifeline system tethered to a fixed object. Such systems are inappropriate for pilot transfers for a number of reasons and are thus not used. Maritime Pilots transfer between two objects that are moving independently. The movements of the ship and the pilot cutter in heavy seas can be the equivalent of an elevator going up and down between floors in seconds. Unimpeded spilt second judgment is often required.
Thousands of pilot transfers are undertaken safely on a daily basis around the world. With good methods, teamwork and individual skills by boat crews and Pilots these transfers generally avoid man overboard situations. Cutter crews and Pilots are constantly learning from their experiences and helping to shape the equipment and techniques of man overboard prevention and recovery that all sectors can benefit from. This presentation looks at the potential suitability of the numerous workboats and support vessels operating in the modern port for locating and recovering a casualty in the water to safety.
Captain Don Cockrill MBE FNI - Secretary General, UK Maritime Pilots Association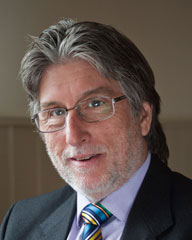 Don's seafaring adventures began in 1973 as a cadet with Canadian Pacific (CP Ships) from where having progressed to master specialising in petro-chemicals he spent a brief period with Stolt-Neilson before joining the Port of London Authority as a pilot in 1991 where he still works as one of the senior pilots.
Concurrently throughout almost all of that period he has been involved one way or another in the administration and work of the United Kingdom Maritime Pilots' Association most recently as its chairman for 5 years until November 2015. He is now engaged by the UKMPA in the role of Secretary General.
For voluntary services to Maritime Pilotage and the Port Industry Don was awarded an MBE in the 2017 New Years Honours.

He is passionate about the promotion of safety issues and the maintenance of the highest professional standards. His significant lifelong experience and associated expertise in maritime operations within the ports and shipping industries, is often sought after.
MAN OVERBOARD Prevention & Recovery Workshop - April 2017
This presenter has asked us not to publish their presentation.