Shock Mitigation Innovations on Prototype KNRM Dutch Lifeboat NH1816
In 2008 the Royal Netherlands Sea Rescue Institution (KNRM) expressed its need for a completely new type of rescue vessel. Thanks to a donation to the KNRM from Dutch insurance company 'Noordhollandsche 1816' (NH 1816), the design phase could begin in collaboration with Damen, the Maritime Technology faculty at Delft University and De Vries Lentsch Naval Architects.

The KNRM's rescue vessels, which have to be deployable in all weather conditions, are being designed to the most rigorous standards. Seakeeping and stability are the most crucial factors in safety. For the crew, however, comfort and user-friendliness are also key features. Built by Damen Shipyards Group, the 19 metre rescue vessel named 'NH1816' combines all of the technical, ergonomic and operational features the KNRM wanted in a remarkable new design.
The new rescue vessel is intended to be the future replacement for the current Arie Visser-class vessels. These ten 19 metre rescue vessels began being built in 1999 and they continue to deliver outstanding performance. Over the next 20 years, in order to keep the KNRM in line with the latest global developments in rescue work, these vessels will gradually make way for the new generation of rescue vessel.
Specific requirements to be met (compared to Arie Visser Class) include significant reduction of vertical and horizontal accelerations (G-forces) aiming for a minimum of 40% and significant noise reduction set at max 75 Db. Besides reduction of vibrations, design focus is on ergonomically sound wheelhouse design including wheelhouse climate control and other increased crew comfort items.

Hans van der Molen - Head of Technical Projects & Innovation, KNRM (Royal Netherlands Lifeboat)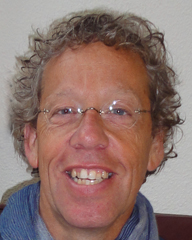 Hans has been working for the Royal Netherlands Sea Rescue organisation for over 27 years as technical superintendent, where he is currently in charge of a small team which is responsible for technical projects and technical innovation.
Hans started his career in the merchant navy as one of the first ships engineer / navigation officer generation. After being stationed 2 years in Japan and Korea as part of a new building team for container vessels and a career at sea for almost 9 years, Hans decided to join the lifeboat services, combining best of both worlds, working in a maritime environment , while being able to live ashore.
Over the last couple of years Hans has gained in depth knowledge on the subjects of Whole Body vibration and Repeated Shock which helps KNRM to provide maximum care for their lifeboat crews.
MAN OVERBOARD Prevention & Recovery Workshop - April 2017
This presenter has asked us not to publish their presentation.

For further information www.knrm.nl