RNLI Analysis of Incident Statistics from 'On Water' & 'Close To Water' Activities
The presentation considers how the RNLI uses analysis of incident statistics from a broad range of 'on water' and 'close to water' activities to develop and refine safety interventions, manage risk and target behaviour change that can bias activity participants toward safety; like lifejacket wear and adopting low resource MOB Recovery.

Better explained as – why maritime safety is boring, stupid, a hassle and doesn't apply to me anyway – and what to do about it.
The second part of the presentation looks at Low Resource MOB Recovery. A situation that is particularly relevant to small commercial operators is how minimal crews need to consider recovery of an MOB without outside assistance.
RNLI Principal Activities
There are many circumstances and events that lead to someone drowning. The RNLI and other water safety organisations define this as the drowning chain. This series of events is made up of a lack of understanding, information, protection, ability to cope, supervision and – ultimately – rescue. The RNLI's activities focus on interrupting that chain at every stage.
RNLI crews aim to launch their lifeboats within 10 minutes of being notified, and can operate up to 100 nautical miles out to sea. The RNLI aim to reach at least 90% of all casualties within 10 nautical miles of the coast, within 30 minutes of a lifeboat launch – in any weather.
The RNLI charity saves lives at sea throughout the UK, Ireland, Isle of Man and Channel Islands. This is achieved through four principal activities – lifeboats, lifeguards, community safety and flood rescue. These four strands make up the RNLI's Concept of Operations, which is supported with extensive fundraising. Community safety is core to the RNLI's operations and underpins the aim to halve drowning in the UK and Ireland by 2024.
JoJo Mains - Community Safety Intelligence Manager, Royal National Lifeboat Institution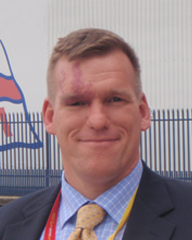 JoJo Mains is the Royal National Lifeboat Institution's Community Safety Intelligence Manager. He is responsible for collecting, analysing and disseminating actionable information. That information enables the RNLI, partner organisations and members of the public to use evidence in order to influence policies, safety standards and people's behaviour towards actions that manage risk effectively; targeting fewer coastal deaths, incidents and the need for maritime rescue in the United Kingdom and the Republic of Ireland.
Prior to joining the RNLI in 2008 JoJo spent 24 years in the United States Coast Guard (USCG), a branch of the armed forces in the US. He served on a wide range of ships, search & rescue units, tactical law enforcement teams and on the USCG's highest tier anti-terrorism unit. He has performed numerous rescues at sea, fought fires, salvaged vessels in distress, provided medical attention and evacuations for injured and sick mariners, responded to floods and other natural disasters as well as a wide range of police and military specific operations in support of US national objectives.
While serving in the USCG he deployed to more than 30 nations to provide training, exchange information or conduct joint operations. During 2004-2006 JoJo was seconded to the RNLI as the USCG's exchange lifeboat trainer.
JoJo holds a BSc in history from the University of the State of New York and has graduated from more than 50 professional schools and courses conducted in seven nations.