Design Challenges of Building Modern Lifeboats for the RNLI
The Royal National Lifeboat Institution (RNLI) was established in 1824, and now operates 340 lifeboats from 236 locations with approximately 4800 volunteer crew.

The RNLI provides the UK Government, its Crown Dependencies and the Irish Government with a co-ordinated and declared Search and Rescue capability that operates around the entire coast of the geographical British Isles.
The RNLI operate a fleet of modern Inshore and All Weather lifeboats that have to be capable of safely and reliably operating in the most extreme of natural environments. To achieve this level of safety and reliability, design led redundancy of boat systems such as power, navigation, communications and vessel structure is essential for critical tasks. In addition to these obvious design challenges, RNLI Engineers also have to consider social, legislative, economic and organisational challenges when designing and procuring new RNLI equipment.
Based upon recent RNLI experience this presentation will briefly introduce the RNLI before outlining some of these challenges and how they are overcome when designing lifeboats and their launching systems for operation around the coastline of the British Isles.
Iain Wallbridge - Senior Naval Architect, RNLI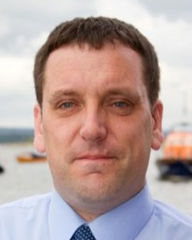 Iain is a Chartered Engineer and a Senior Naval Architect at the RNLI. Currently he is providing technical support to the Atlantic 85 construction program, various composite repairs and managing stability related issues.
Prior RNLI experience has included project management of the redesign of the original RNLI E-Class fleet, detailed stability analysis and extensive boat trials.
Previously Iain completed a Shipwrights apprenticeship working on a wide range of boats, yachts and commercial vessels (up to 100'), worked for a major luxury yacht builder working on structural drawings, weight and stability calculations and more recently for a Naval Architecture consultancy involved in various projects including fast and conventional ferries, pontoons, yachts and specialised commercial ships.
NEXT GEN Workshops - October 2017