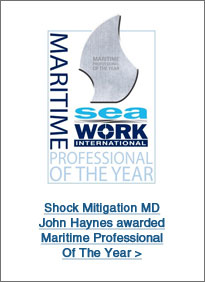 20 Years Experience of Preparing Extreme Watercraft for Endurance Racing and Passages
This presentation looks at how, in just over 20 years, the personal watercraft (PWC) has developed from 2 cylinder 60hp recreational craft to 4 cylinder craft delivering over 300hp that are increasingly being used for roles in the professional sector. Supercharged versions have power to weight ratios, and acceleration, equivalent to some of the fastest machines on land. Alongside of increasingly high performance, the extreme use of these craft has challenged manufacturers to improve durability and reliability. As these craft push the limits of materials and engineering there are lessons to be learned from what parts of the craft are best left as 'stock', or commercial of the shelf, and which parts can be improved with modifications.
Launched in the UK by Powerboat P1, the AquaX racing series is proving an excellent on water test for man and machine. In 2013 P1 rolled out a second series in the USA. By the end of 2015 the series had received over 400 registered entries from 11 countries. In 2016 AquaX unveiled a Pro level championship in the USA and launched Pro/Am championships in Malaysia and the Great Lakes region of the USA. 2017 has seen the launch of the European AquaX Pro Championships. Sit down PWC come under the ENDURO rules. If the series is ranked 'Am or Pro/Am' then craft must remain stock, except for minor handling modifications. Craft are classified by the horsepower, 300hp – 250hp – 200hp. To win ENDURO races a competitor needs to be in good physical condition and their equipment needs thorough preparation.
Russell Marmon – International PWC Champion, Professional Engineer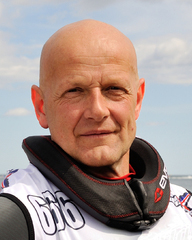 Russell has extensive experience operating watercraft and RIBs. He been riding PWC for 25 years and racing for 19. He has owned over 40 personal watercraft from various manufacturers. In 1996 he crossed the English Channel from the Channel Islands on a PWC. He has competed in Europe the US and Africa with the main focus on endurance races, some covering over 300 miles in a day with top speeds in excess of 70mph. As a seasoned endurance racer his winning results are a combination of high performance machine, robust engineering and detailed preparation. Extreme watercraft place demands on the body that require specific fitness and strength conditioning. His knowledge of biomechanics and use of body position to improve boat handling in rough water have been developed in open sea conditions around the world. He has suffered major injuries and used the experiences to improve personal safety and personal protective equipment (PPE).
He is a professional engineer and Managing Director of Prestige Performance where he oversees a team of highly skilled technicians that deliver diagnostics, tuning and maintenance for high performance automobiles.