Selecting Effective Craft to Fulfil Multiple Maritime Functions in Port and at Sea
This presentation looks at a rapid and successful project to select and procure an effective fleet of RHIBs / mono-hull / multi-hull craft to fulfil multiple security functions in the modern port and for open sea operations.
Lessons Learned from Both Sides of Boat & Equipment Procurement

This presentation is part of a panel discussion that considers boat and equipment procurement as a collaborative process.
Government procurement includes options papers looking at future maritime roles, vessels required, specification and budgets.
Commercial response to tenders includes the designer, naval architect, boat builder and equipment manufacturer perspective.
Tony Birr - Workshop Facilitator / Director, Century Maritime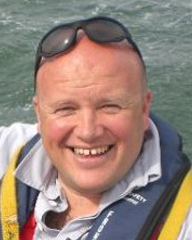 Tony started his working life in the Royal Navy before joining the British Police Service, serving for a total of 32 years. He gained skills and experience covering both operational and organisational leadership, project management, procurement, significant change management and technology integration. During his police days he was responsible for all Marine Operations in the Solent area including protection of national infrastructure. This involved taking into account threat levels and risk assessments, formulating and developing strategies and working with partner agencies.
He now uses this experience to work with ports, harbour authorities, marinas and the UK Harbour Master Association helping to promote awareness and readiness to deal with the unexpected in these environments. Tony also works with the British marine industry promoting design, innovation and quality of commercial boats built in the UK, working closely with Goodchild Marine Services, Lochin Marine International and Shock Mitigation. Plus voluntary work with British Marine trade association in promoting the marine industry as a career option for all.
NEXT GEN Workshops - October 2017