The Challenges of Building Fleets for Evolving Maritime Roles
This presentation highlights the history, role and purpose of the Maritime Command (Marine Branch).

Fleet resources – vessels, manpower and the threat to the UK.
The evolving fleet to counter drug smuggling in the 1990s.
The single market and free movement.
Post 9/11 and counter-terrorism – MV Nisha.
HM Customs / HMRC / UKBA / Border Force vessels.
HM Protector – purchasing second hand patrol vessel.
The migrant threat – UK and Mediterranean.
Commercial charter vessels – understanding the platform – trade-offs – speed / endurance.
Adapting a platform to perform a task.
Adapting a task to suit a platform – eg fisheries.
MCC / joint working and JMOC.
Changing the mindset and behaviour patterns of management and the crew.
Introduction of ex BP ARRC 20m RIBs – now CPV (Coastal Patrol Vessel).
Looking forward – the challenges of Brexit, recruitment and retention.
Border Force is a part of the Home Office, responsible for frontline border control operations at air, sea and rail ports in the United Kingdom. The UK maritime border is protected by a fleet of sea patrol vessels, known as cutters, which carry out maritime enforcement, surveillance and interception. The cutters are responsible for detecting prohibited and restricted goods, immigration crime and fiscal fraud by boarding and searching all types of vessels and taking part in multi-agency maritime operations in both UK and international waters.

All Border Force vessels bear the prefix 'HMC' - Her Majesty's Cutter. 42m Cutters: HMC Seeker / HMC Searcher / HMC Vigilant / HMC Valiant / HMC Protector. 20m Coastal Patrol Vessels (CPV): HMC Active / HMC Alert / HMC Eagle / HMC Nimrod.
Jon Lewis - Maritime Command, UK Border Force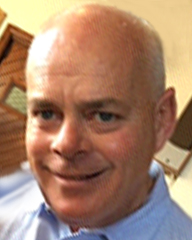 Inspired by a voyage on the STA vessel "Winston Churchill" Jon started his career at sea as an Engineering cadet with Texaco overseas Tankships in 1979, studying at Reardon Smith in Cardiff and Warsash (Argyle Road) in Southampton.
Jon joined HM Customs and Excise in 1985, joining the Cutter service (Marine Branch). He progressed from junior engineer to Chief Engineer in 1994, before coming ashore in 2012.
After completing further training as an ISM Lead Auditor, DPA, Jon gained the NEBOSH General Certificate. Jon was promoted to Head of HSST in May 2016 and runs a team of three, supplemented by additional personnel, when delivering training.
Jon is currently the Head of Health, Safety and Sea Training at the Border Force Maritime Command, based in Portsmouth. He is the Designated Person Ashore for the Border Protection Squadron, with responsibilities for the Safety Management System, Risk Assessments and Accident Prevention / Investigation.
NEXT GEN Workshops - October 2017
This presenter has asked us not to publish their presentation.