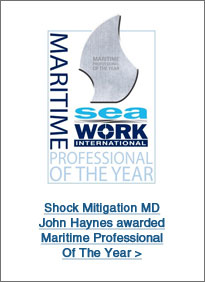 Shock Mitigation MD Swims 1.5 Miles PIER TO PIER

10.07.2017
Shock Mitigation MD, John Haynes, is swimming 1.5 miles at sea in the Bournemouth PIER TO PIER event on Sunday 16 July.
The PIER TO PIER is Europe's biggest outdoor swimming event and a major fundraising event for British Heart Foundation, the charity leading the fight against the UK's single biggest killer - Coronary Heart Disease.
John Haynes said, 'At the NEXT GENERATION Man Overboard Prevention & Recovery Workshop in April 2017 we made a clear statement that injury prevention is important BUT death by drowning or death by exposure to cold is still the prime risk at sea. It reminded me that swimming and self rescue need to be part of the solution. Improving my swimming at sea with fundraising for the British Heart Foundation is great synergy.'
1800 people swam Pier To Pier on 16 July 2017
The swim from Bournemouth Pier to Boscombe Pier has been running for many years and regularly raises over £100,000 for research into heart diseases and support for sufferers. British Heart Foundation have trained millions of people in life saving CPR, they have helped fund over 14,500 defibrillators around the UK and invest £100 million each year in cardiovascular research - currently over 1000 projects.

Working With The Elements - Boats & Swimmers



John Haynes said, 'For many pool swimmers the normal approach to swimming is to just charge through the water, but that will simply not cut it in the sea. The strongest swimmer in the world cannot fight against the waves – you've got to work with them. Just like handling a boat in waves it involves feeling and really listening to the water then sometimes pausing your stroke or lengthening it as a wave hits.'

There is something quintessentially British about swimming from one wind-swept seaside pier to another, indeed they've been doing just that in Bournemouth since the 1930s. The Pier to Pier swim sees the intrepid participants split into two groups, identified by yellow and red swimming caps, setting off at 10.00 and 12.00.

John Haynes added, 'I have been on and around the waters of the English Channel all my life. Bournemouth is an exposed south facing surf beach so the conditions can get choppy and waves make it more interesting. Most people wear a wetsuit for this event but I go for the minimalist approach as cold water adds to the challenge and keeps you moving.'

Going from 100 Metres to 1.5 Miles in 7 days
I am confident in the water - but as I do not swim regularly the real challenge was quickly upping my freestyle swimming distance to cover 1.5 miles from Pier to Pier...

As a coach and instructor in many disciplines I firmly believe in breaking a task down to its component parts, then focussing on the large parts first and detail after. I also understand that in and on the water 'feel' is an important skill that needs be learned incrementally until it becomes intuitive.
Tim Ferris who has a knack for finding quick fixes wrote a blog titled, 'Total Immersion: How I Learned to Swim Effortlessly in 10 Days and You Can Too'. That sounded like a good start so I read about Terry Laughlin, founder and head coach of Total Immersion and winner of six US national masters championships since turning 55, who says...
I've seen countless times that feel for the water is learnable. You cultivate it by doing something that comes naturally to very few swimmers – and is not an explicit part of any traditional training programme. I'm referring to training in which self-sensing is a formal, systematic and indeed foundational element, given equal or greater importance as aspects like distance, time and effort. You cultivate it by doing something that comes naturally to very few swimmers: placing primary emphasis on the formal and systematic training of one's 'self-sensing' abilities. This meta-cognitive approach has thousands of years of history in movement or martial arts like T'ai Chi and Qi Gong, but is entirely new to the way most people think about swimming practice.
The development of a high level of self-sensing ability is the first element in the Mind-Body training approach taught by Total Immersion. Its most immediate benefit is that – unlike physical characteristics such as size, body type or fitness – average swimmers can equal or surpass elites in feel for the water by including self-sensing elements as a core part of their training programme. A more holistic benefit is that it produces many of the salutary effects of mindfulness training (which is based on self-sensing of the breath, posture, mind-focus, etc) and transforms tedious and repetitive training into an engaging and enjoyable activity.
TI - Total Immersion Top Tips...
Aim to propel yourself forward with the least resistance and least effort.
Focus on shoulder roll and keeping your body horizontal - not pulling with your arms or kicking with your legs.
Keep yourself horizontal by keeping your head in line with your spine - you should be looking straight down.
Think of swimming freestyle as swimming on alternating sides - not on your stomach.
Penetrate the water with your fingers angled down and fully extend your arm well beneath your head.
Focus on increasing stroke length instead of stroke rate - and attempt to glide further on each stroke.
Forget about workouts and focus on 'practice'.
To breathe stretch your extended arm and turn your body - not just your head.
Does TI work? I thought this was worth sharing...

July 2017 - I went to Greece for a week determined to improve my open sea swimming.

Day One - Before using TI method I could swim approx 100 metres non-stop freestyle.

Day Two to Day Five - I built up the distance incrementally and worked on technique.

Day Six - I swam 1 mile non-stop.
Day Seven - I swam 1.5 miles non-stop.
THANK YOU TERRY & TI www.totalimmersion.net
John Haynes swam 1.5 Mile Pier To Pier in 39 minutes

All images are copyright Shock Mitigation Directory 2018 unless otherwise stated.
This does not exclude the owner's assertion of copyright over the material.