April 2017 MOB - Feedback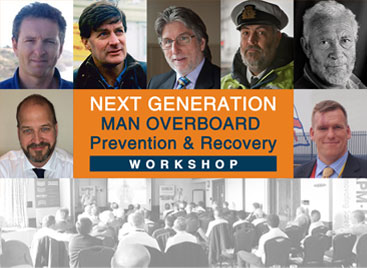 Bruce Reid – CEO, IMRF - International Maritime Rescue Federation
Thanks for an excellent range of presenters and providing a great networking opportunity. It was time well spent and brought to life some of those on water and in water challenges we know about but sometimes don't spend enough time thinking about.
Frederique Gerard – Group Product and Marketing Director, 3Si
A very insightful workshop and opportunity to network with maritime experts on MOB challenges.
Peter Steen – Director of Marine Operations, Port of London Authority
Both days were hugely interesting. It was evident that the presenters were all experts in their fields with interesting and informative material, stories and presentations. Well worth attending.
Ian Griffith – Maritime Command, Border Force
Excellent presentations. Very relevant. Sections on WBV very informative.

Peter Wilkens – WBV Project Lead, RNLI
Very useful event that I have taken a lot away from. Keen to not re-invent the wheel and ensure we are keeping up and assisting with industry developments.

Chris Hill – MD, Spinlock
It was a great event for Spinlock to be partnered with and included excellent content and speakers.
Capt Don Cockrill – Secretary General, UK Maritime Pilots Association
Two excellent workshops. The Man Overboard event revealed a number of issues to delegates hitherto unappreciated.
Dr Tom Coe – Senior Consultant Frazer-Nash Consultancy / Naval Design Partnering
As usual John Haynes brought together a great group of professionals from across the maritime industry: consultants, academics, industrial players and mariners. It was good to catch up with colleagues and share research ideas, and an excellent decision to combine Whole Body Vibration and Shock with Man Overboard Recovery, as it helped bring a high quality and diverse group together which I think sparked some really valuable discussions.

Paul Savage – Managing Director, Saviour Medical
Excellent day in the company of likeminded individuals all with the common goal of improving understanding of cold water immersion, and the subsequent improvements to equipment design and practices that could benefit the person in the water.
Sally Dale – MD, Pinpoint Electronics
Fast paced, relevant discussions. High quality key industry participants. Overwhelmed by knowledge and experience of speakers.
Daniel Olsson – Division Manager, Maritime Rescue Equipment, Dacon AS
Great workshop facilitated by Shock Mitigation and John Haynes. We found the mix of presentations very educational and the format with Q&A sessions and networking breaks allowed for in-depth discussions on interesting aspects of Man Overboard challenges.

Tom Harrop – Marine Manager, Exposure Marine
It was a really good event for both knowledge building around MOB prevention, rescue and consequences whilst offering a valuable opportunity for effective networking with key individuals within the marine safety sector.
Captain John Stafford – Pilot, Port of London Authority
I thought the workshop style worked very well in this setting. I was most interested to see that although the speakers had not compared notes before the event we all basically made the same points. There is no substitute for good education, good equipment and good training to make the best possible survival prospects in a very dangerous situation.

Ryan van der Linde – Marine Specialist, Orolia Ltd
Very good event. Learned a lot. All presenters were excellent.
Giuseppe Raffa – Maritime Pilot, Corporazione Piloti Stretto Messina
Excellent Workshop, high value international group of experts. Greatly appreciated the debate after the good individual presentations.
Andy Ash-Vie – MD, Harken UK
Thanks for hosting the event. It was a very positive step forward in improving safety at sea, especially for the institutions involved.
Assoc Prof Yeping Xiong – Southampton Marine & Maritime Institute, University of Southampton
A very interesting workshop. I enjoy the talks and discussions. Great networking opportunity with industry and researchers in UK, EU and world. Thanks for bringing academics and industries together.
Mike Deacon – BIBOA, British Inflatable Boat Owners Association
An excellent event.

James Glover – MD, Dyena
Very good, relevant and informative. Great crowd with good networking and general conversation.
Kim Rene Vågeskar – Sales Manager, Dacon AS
Thought it was a good workshop, and with brilliant presenters. Very educational, and never a dull moment.
Matt Bailey – Safety Lead, Christchurch Rowing Club
A fantastic day of networking and learning. The conference was hugely relevant to not only the maritime industry that I work in, but also the leisure side of boating which I often find myself part of.
Tony Birr – MD, Century Maritime
The MOB day was particularly valuable and highlighted how the industry needs to assist in co-operation between end-users, operators, procurement, designers, boat builders plus the supply chain for ancillary items.
Matt Haynes – Personal Trainer & Sports Massage Therapist
Good speakers. Very interesting regarding few minutes mobility for MOB in water. Also the anatomy and physiology on how the body is affected by RS & WBV and what can be done to reduce this to maintain good health.
Graham Brown – MD, Sea Sure Ltd
These events have a great format. It's refreshing to be in a room of like-minded professionals and able to discuss core issues without fear-or-favour. It's how real issues get resolved.
Prof Jelte Bos – TNO, Netherlands Organisation for Applied Scientific Research
I really enjoyed the meting, and in particular the discussions in between with the other participants. I really believe that the mixture of people with a practical, industry and/or theoretical background is the strength of these workshops!
Phil Moxley – Senior Noise and Vibration Engineer, Frazer-Nash
A very useful event which allows you to see to see how other parts of the sector are engaging in whole body vibration design and mitigation, a very stimulating day all round.
John Dixon – ISVR, Institute of Sound & Vibration Research
Lots of interesting discussion driven on by JH. Enjoyed the whole day.
Dr Tom Gunston – Seat Testing Working Group, ISO Standards
When developing standards it is essential to engage with users, manufacturers, regulators and any other groups that might be affected and these Workshops bring together a wealth of experience from specialists from different disciplines. They are useful for sharing information, learning from others and working together to try and find solutions for some of the interesting challenges that are unique to the fast boat world.
Hans van der Molen – Head of Technical Services, KNRM, Royal Netherlands Sea Rescue Institution
John Haynes organised a workshop on shock mitigation where the focus was put upon other methods than just suspension seats. A great day amongst a group of professional subject matter experts like Tom Coe, Tom Gunston, Jelte Bos. Time was spent on the phenomena of lateral acceleration, quite a new field, since gathering relevant information is difficult and mitigation options maybe even more. A day well spent, following a day addressing the topic of Man Overboard. Congrats to John Haynes on two excelllent days!!!

Workshop Lead
John Haynes – Managing Director, Shock Mitigation Solutions
We focus on viable solutions and using people's time effectively. We also know that having the right people onboard is essential and there is no substitute for meeting the experts face to face when asking the hard questions. We are really proud to have brought together this great group of innovators, industry and maritime professionals.