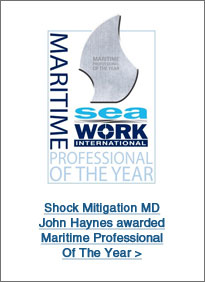 Professional fast boat operations include being on the water for extended periods and in extreme conditions which can result in injuries to crews and passengers. The objective of changing operating methods, equipment upgrades or specifying alternative hull designs is to improve an organisations overall performance.
Shock Mitigation Strategy
A high incidence of injuries to personnel can affect the overall performance of an organisation. Injuries to back, knee, hip and neck are typical on high speed craft. There is no 'one off' solution to the demands of fast boats and extended periods at sea but an effective shock mitigation strategy can significantly benefit all operations.
Biomechanics & Ergonomics
Biomechanics is the study of the mechanics of the human body, especially the forces exerted by muscles and gravity on the skeletal structure. Ergonomics is the study of how a workplace and the equipment used there can best be designed for comfort, safety, efficiency and productivity.
The Human Body
Crew and passengers need to be aware of how the body's own suspension system reacts to boat movements in various sea states. Effective seating and handholds are essential on fast boats plus the crew and passengers need to understand the benefits of maintaining good posture whether sitting or standing.
Work Station Layouts
A shock mitigation strategy includes the Man Machine Interface (MMI). This relates to how operators perform onboard tasks and how their positions alter as conditions change. Badly planned equipment layouts or inefficient work station ergonomics can lead to biomechanical problems that result in injury to the human body.
Information
To discuss your individual requirements please contact info@shockmitigation.com